Hope Ardizzone,
Luna
(2017)
,
archival print, 6 ½ x 14 inches
My motivation to curate Fun House goes pretty far back. In the 1970s, I made art that was automatic in a relatively representational way, free of convention and challenging to one's sense of humor. I was, and still am intending to combine low-brow and high-brow art. That approach wasn't all that smart at that time, since Minimal and Conceptual art forms were ruling the roost in NYC, but I really didn't care whether or not I fit in. As I looked for galleries to show or represent my work, SoHo quickly became a primary target area. This was a difficult choice to be sure, since my work, which was steeped in Surrealism and Expressionism, was not what most galleries were looking for. Over a half decade had passed me by when I landed a show at the Alternative Space Gallery at Westbroadway. A review of the show by Don Gray and Jessie Benton Gray was published in New York Arts Journal's February 1979 issue. It stated, "Lombardi's surrealistic, dreamlike works combine the wildly visionary, unusual combinations of figures and animals and elaborate color-texturing of the entire picture surface that has a certain convulsive, obsessive quality… Shadows and Listening to the Radio are key pictures of this very striking, almost demonic type."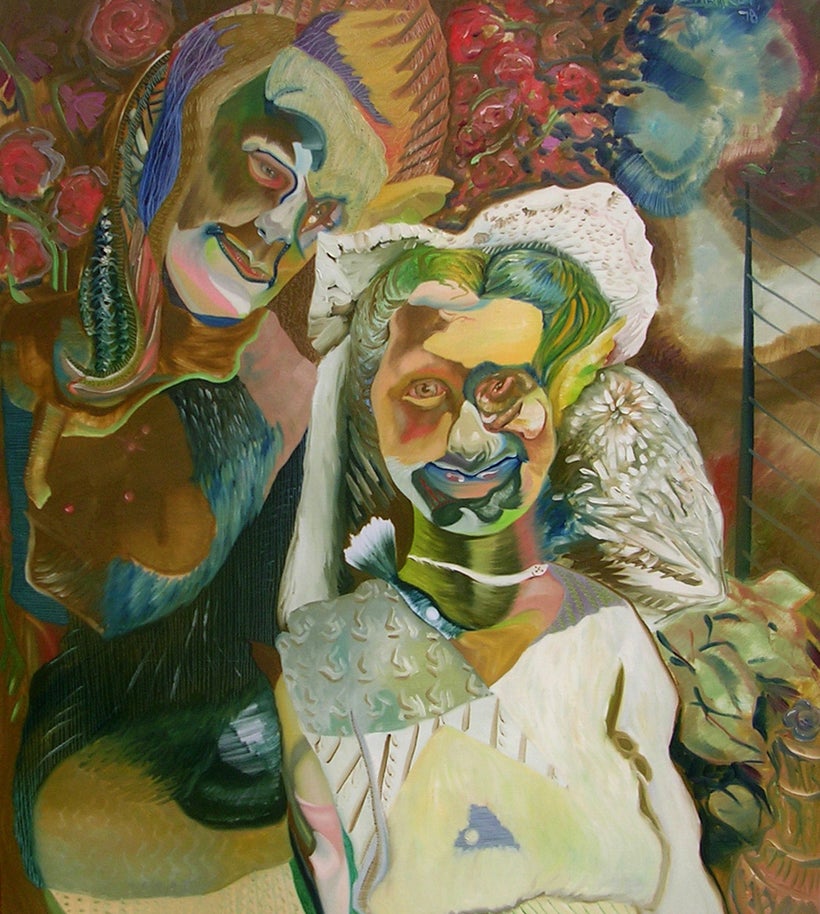 D. Dominick Lombardi,
Shadows
(1978), oil on linen, 54 x 48 inches
When initially reading the review, I remember liking the "convulsive, obsessive" and "demonic" commentary as the writers were expressing a strong reaction to my work. However, the fact that everything I painted in those days was relatively automatic and reactive, and that I was simply enjoying the freedom to think and paint any way I wished – regardless of what I did the day before, was a fun and freeing experience for me. Unfortunately, that part of my work and my intention to express myself freely and without forethought or consideration of a specific 'style' was not transmitting.
In the 1980s things started to change in New York. Galleries were opening up like crazy in the East Village and many were looking for more expressive, edgy, even 'surreal' painters. I did quite well there for a brief time, although there was one gallery that I was never able to get the attention of – and this still sticks out in my mind. Fun Gallery's shows were always extraordinary and flew in the face to the old guard tradition of erudite taste. That attitude, which was revealed in Bill Stalling and Patti Astor's curating, was nothing short of timely brilliance as it captured a new and ever-growing heartbeat of a city longing for a different and more socially relevant kind of socio-cultural stimulation.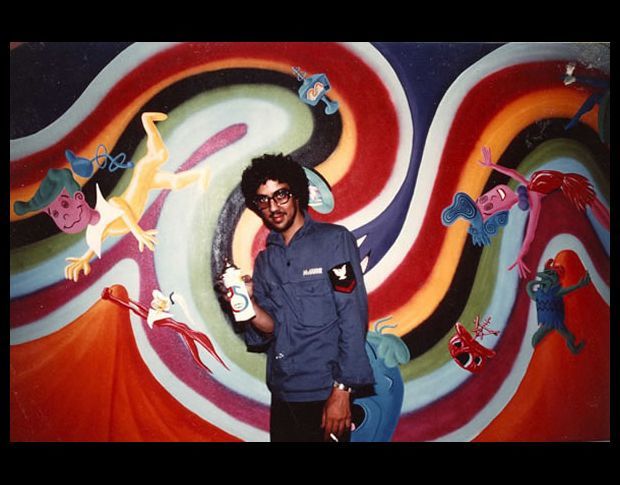 Futura 2000 in front of Kenny Scharf's Whoa Nelly! at the Fun Gallery September 1982
, phot by Anita Rosenberg
With Fun House, I hope to capture a bit of that black comedy aesthetic of the 1980s as the 13 artists in this exhibition tweak and twist our thoughts just enough to have a little fun in these very serious times.
Vicki Khuzami is a master of classic kitsch in depicting lust-filled endeavors. If this wild ride of not-so-subtle innuendo escapes you, you might want to check your pulse – as this pair of passion-pursuers will soon come to the fore.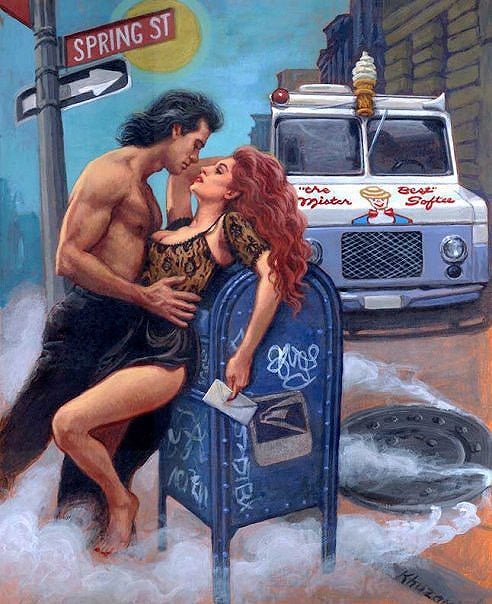 Vicki Khuzami, Spring Fever (2005), acrylic on board, 14 x 11 1/4 inches
Hope Ardizzone takes a hard angle on suspiciously vacant amusement parks and public settings showing the darker side of fun as it relates to function – while the vulnerability we all must share and be aware of takes its toll.

Hope Ardizzone,
Shuttered
(2017), archival print, 6 ½ x 14 inches
Gennadi Barbush's art speaks of the clash between cultural mores and sexual desire by way of a few not-so-nuanced naughty narratives while the straightforwardness of his compositions and curious techniques add weight and wonder.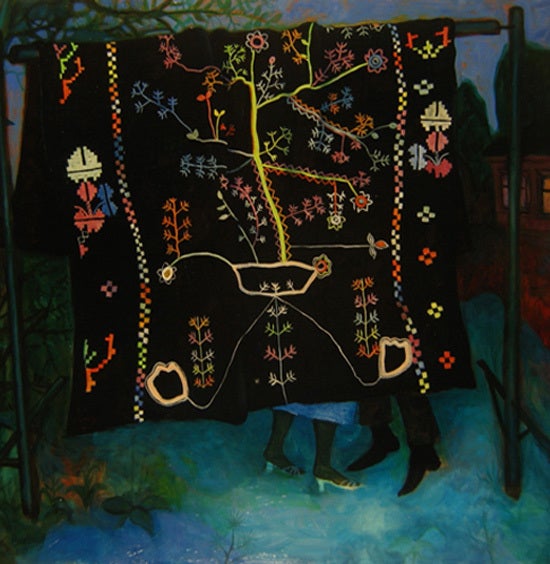 Gennadi Barbush, Rug (2002), oil on canvas, 20 x 24 inches
The distortions in the work of Brian Fekete alludes to a sort of funhouse mirror effect that is equally reminiscent of a warping filter in Photoshop. On the other hand, his use of watercolor pencil on the pages of a 1943 Trigonometric Text gives it all an auto-surreality.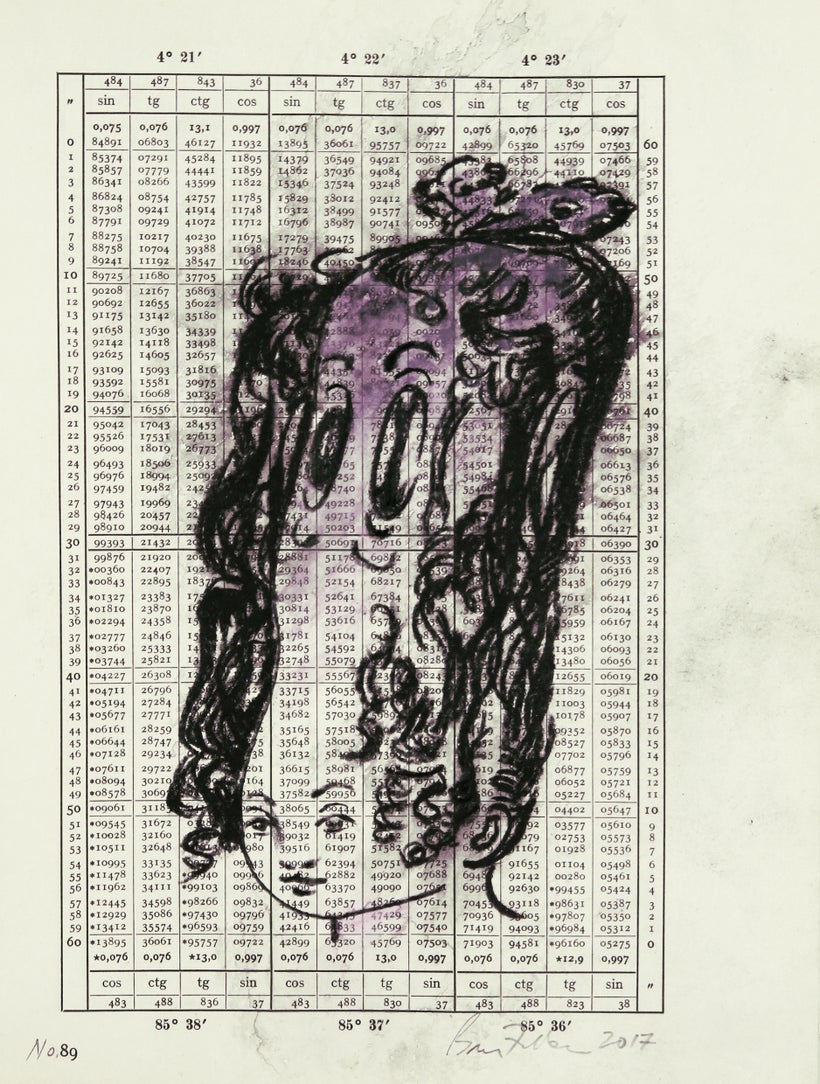 Brian Fekete, No.89 (2017), watercolor pencil on Trigonometric Text, 10 ¾ x 8 inches
Musho, Rodney Alan Greenblat, is the most direct link to the East Village art scene as his work continues to feature eye-catching color and captivating composition. With references to Buddhism and Zen, Musho marks a 'new aged' form of expression.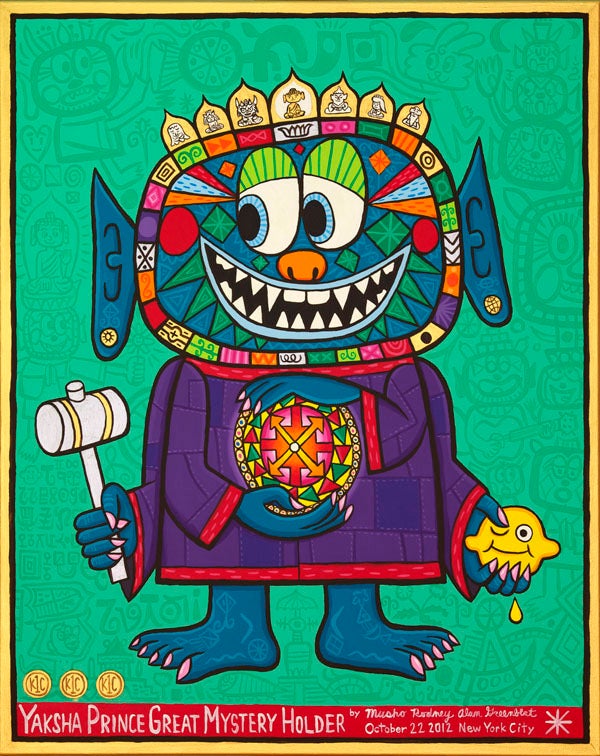 Rodney Alan Greenblat,
Yaksha Prince Great Mystery Holder
(2012), acrylic on canvas, 30 x 24 inches
Scott Hatt mixes messages and metaphors revealing a very strange take on cross-cultural calamity. It is best here, to just go with the flow and find your own way through the turns and tension of space – relative to time.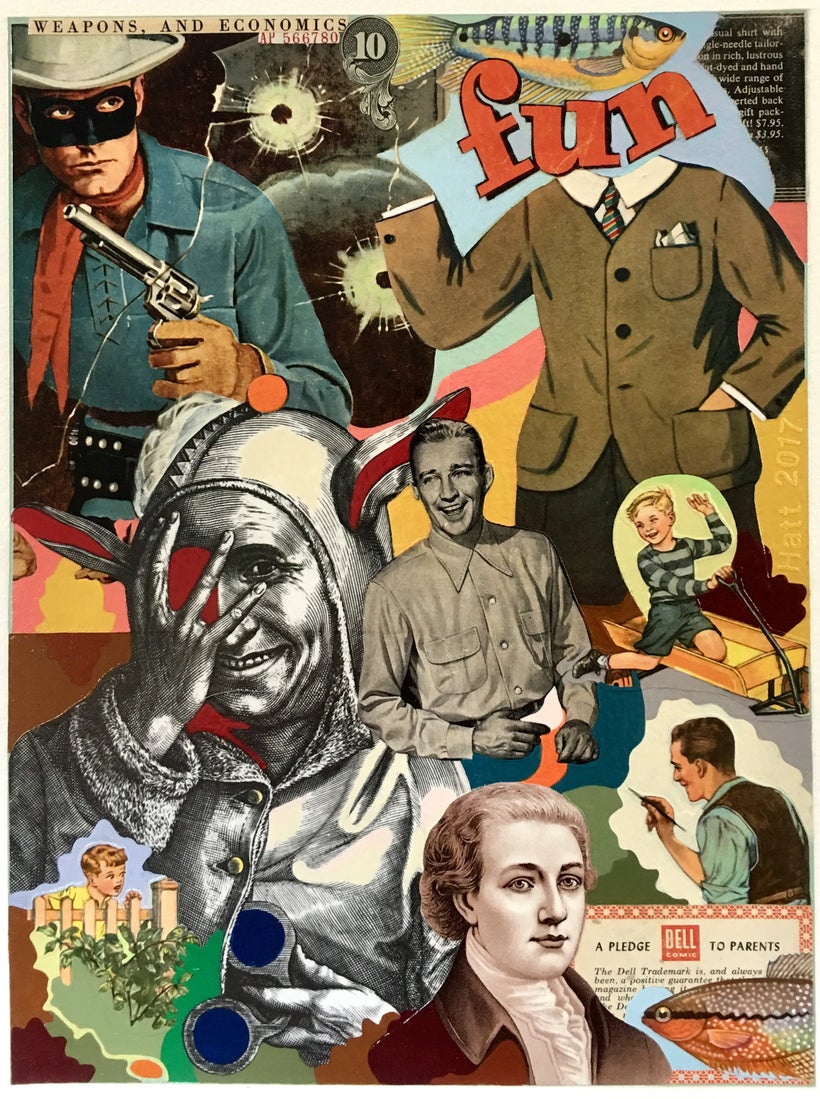 Scott Hatt,
Weapons, and Economics: Fun
(2016)
,
collage and acrylic on #300 Moulin du Roy, 12 X 9 inches
David Moriarty builds his forms and compositions with a flair for monumentality, while the fluidity of space and the overtones of emotion fill the field of view like a roller coaster ride of rapid changes and odd angles.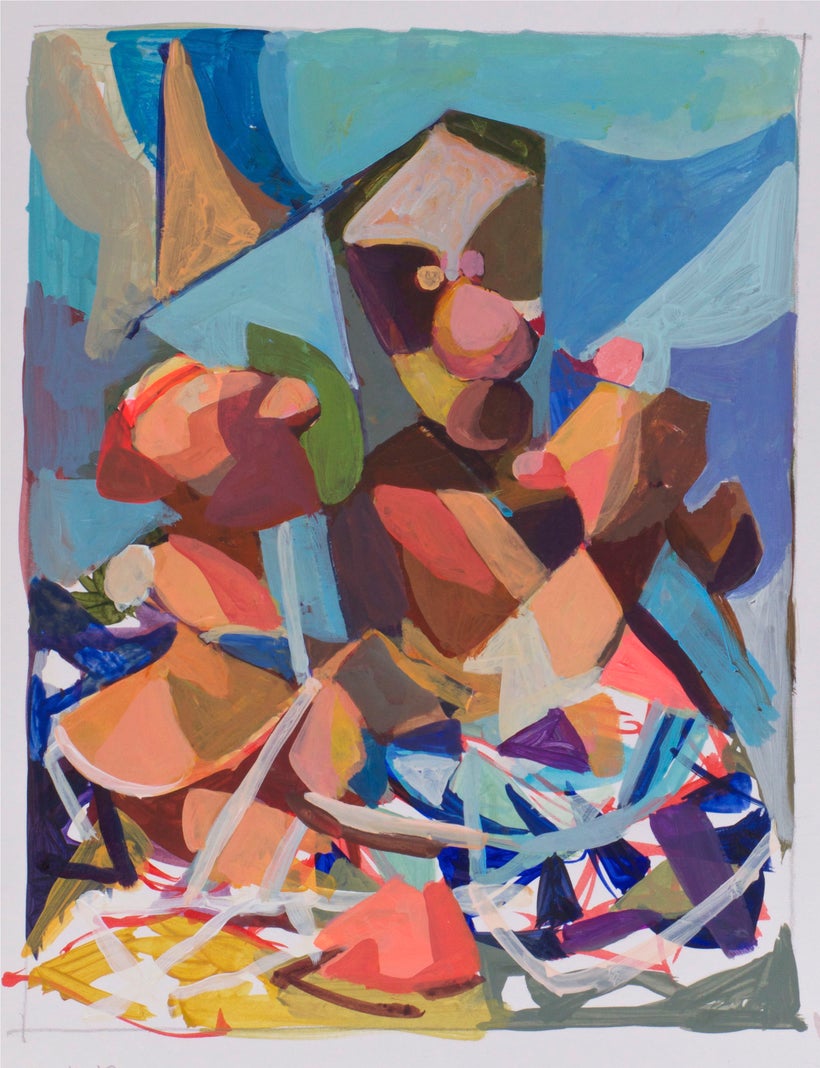 David Moriarty,
Voo Doo
(2014), acrylic on paper, 14 x 11 inches
Kirk Nachman's characters strut, smile and slip through the thin veil that divides childhood memories from daily living. It is hard not to recall our earliest fun filled fascination with the extremes and in-betweens when viewing Nachman's art.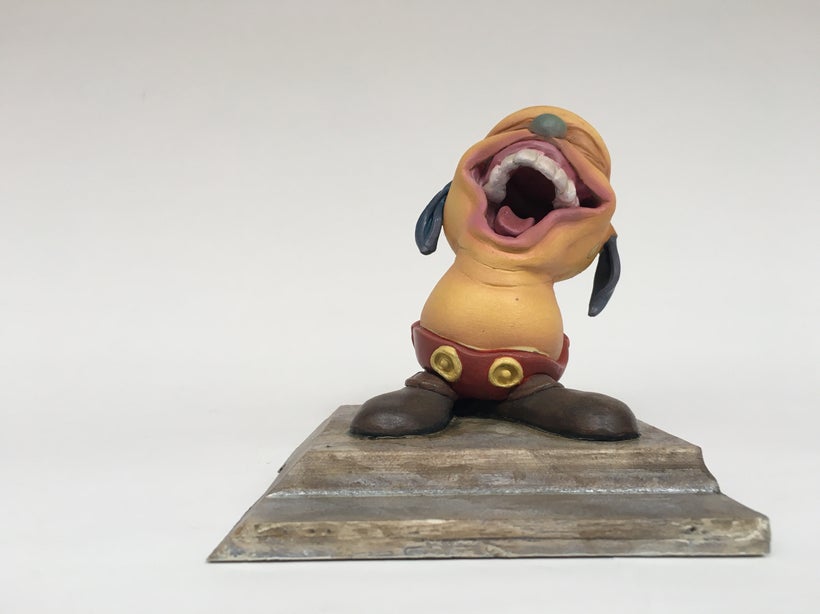 Kirk Nachman,
Clampettian
(2015), sculpey, acrylic, metal, wood, 5 1/2 x 7 x 5 5/8 inches
Bradley Rubenstein's art is born of the subconscious, where dark shadows and fleeting forms can be recorded as foreboding figures. By pairing twin, nearly mirror, image subjects Rubenstein reveals a parallel spirit realm.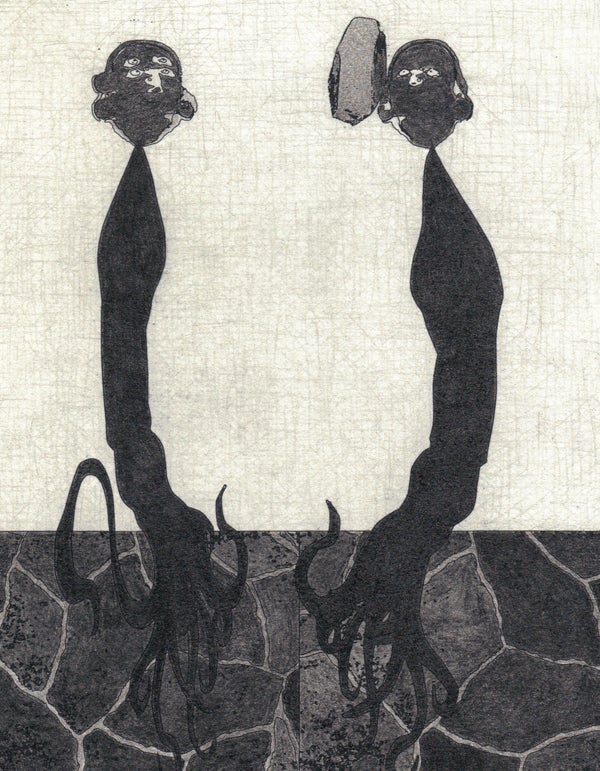 Bradley Rubenstein,
Untitled
(2017), pencil and ink on paper, 12 x 9 inches
Janice Sloane's art might first be seen as a candy-colored House of Horrors. However, upon closer inspection, you will begin to notice the integrity of the technique, the finesse in the surfaces and the humor in the darkness of these potent works.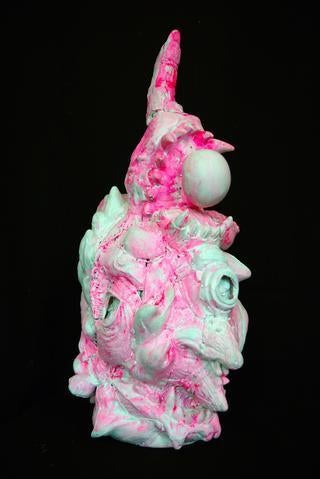 Janice Sloane,
Roamer
(2016), vinyl Halloween masks, steel pins, plastic bags, styrofoam, acrylic paint, 20 x 9 x 12 inches
Xin Song cuts and clips various pages of printed material resulting in a kaleidoscope of shapes, patterns and colors. The deeper you look, the further you will be engulfed by a world of feverish fantasy and restructured rationale.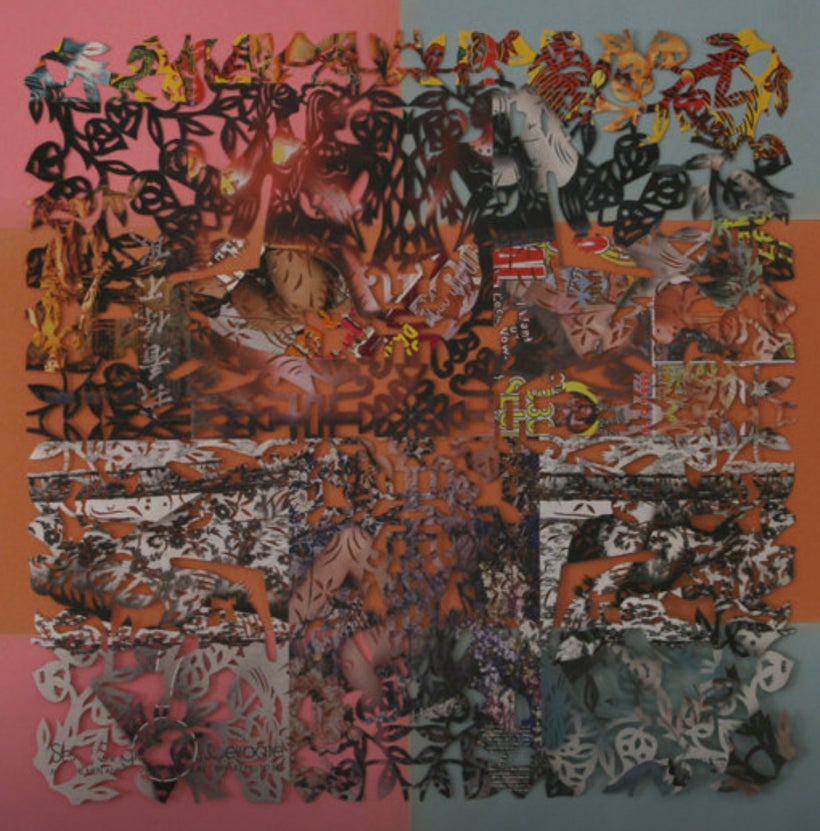 Xin Song,
Sex = Life? Series
(2008), magazine collage, 28 x 28 inches
Roman Turovsky has something of an ages old view of contemporary society. He finds both the classic and the unpredictable in the most common places creating what fortunately amounts to a very uncommon view of the here and now.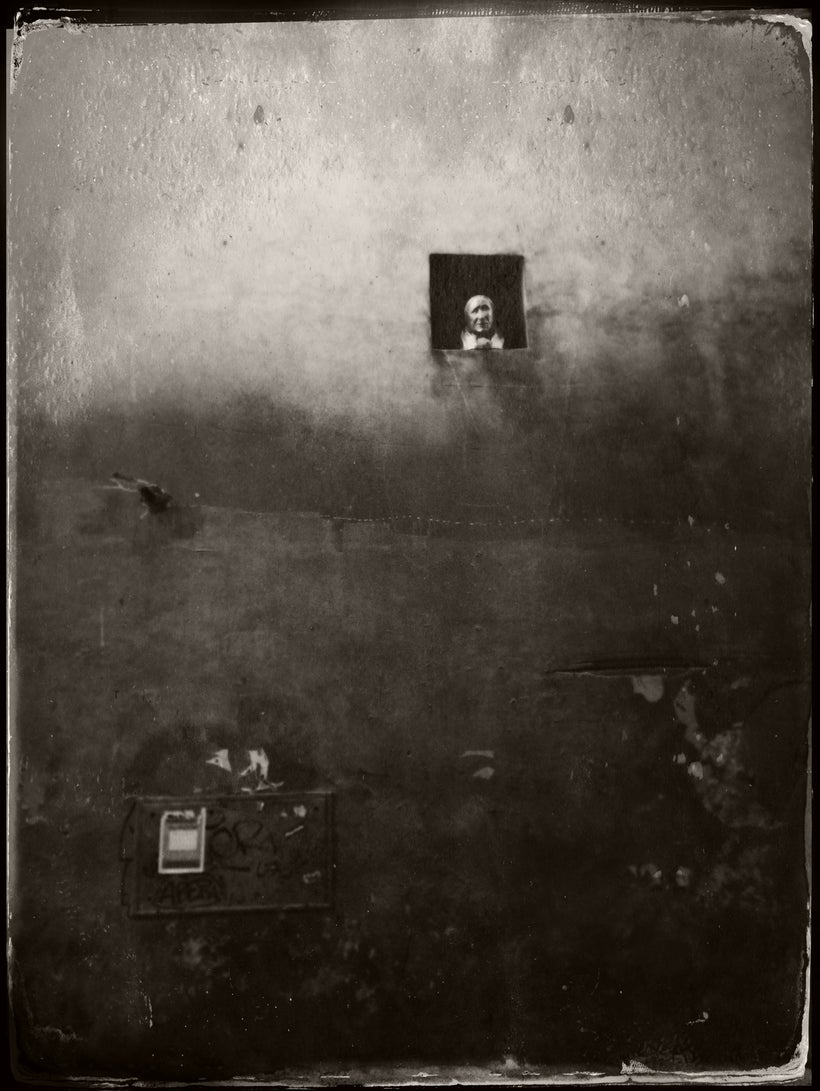 Roman Turovsky,
Trastevere
(2016), archival print, 14 x 11 inches
Melanie Vote challenges perception and prejudgment by adding a distinctive and challenging twist to most of her narratives. With each unique element comes a reminder that our spirits reside somewhere between imagination and reality.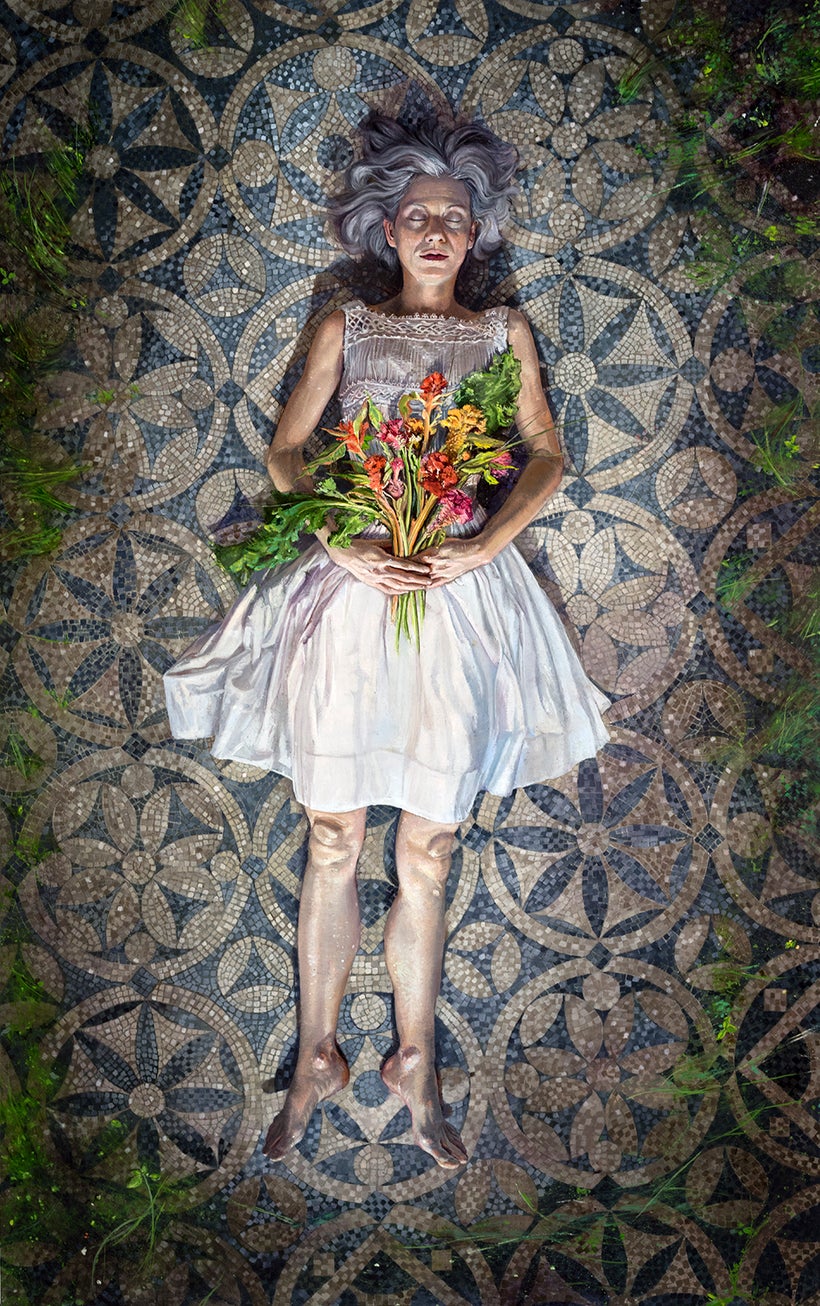 Melanie Vote,
Place Like Home
(2016), oil on linen on panel, 16 × 25 inches
Fun House opens at Galerie Protégé on Thursday, November 16th from 6-8pm. Galerie Protégé is located at 197 Ninth Ave (Lower Level - Chelsea Frames), in New York City.